Airbus €22bn
Iran Air has ordered 118 commercial passenger planes including 12 Airbus A380s, the world's largest jet airliner.
In total, there are 73 wide-body and 45 single-aisle aircrafts being ordered.
Danieli €5.7bn
The Italian metal industry firm has signed a contract to supply heavy machinery and equipment to Iran.
Saipem €3.5bn
The Italian oil and gas contractor has agreed a deal to revamp and upgrade the Pars Shiraz and Tabriz oil refineries.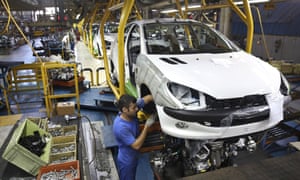 Peugeot €400m
The French car-maker made a deal for a joint venture with the Iranian vehicle manufacturer Khodro to modernize a car factory near Tehran, where three new Peugeot models will be manufactured. The two companies worked together before sanctions, and the project will produce 100,000 vehicles a year starting in late 2017.
Total
The oil giant signed a contract with the national Iranian oil company to buy as many as 200,000 barrels of crude oil per day (€6.6m at current prices), according to the French firm's chief executive, Patrick Pouyanné.
Aéroports de Paris and Bouygues
The French company will assist in the construction of a second terminal at Tehran's Imam Khomeini international airport.
Vinci
The Italian construction firm will develop a new terminal at Shahid Hashemi Nejad airport in Mashhad, north-east Iran.